Hi Grandma, how's the food?
A question frequently asked by families visiting loved ones at a senior living community is "how's the food?" For many Colorado seniors the answer is "fantastic," as showcased by the Colorado Health Care Association's "Chef Challenge" during the group's recent fall conference in Loveland. The prestigious culinary competition is the brainchild of foodservice industry veteran Amy Chiaro, who, in collaboration with CHCA's executive director Doug Farmer staged the first such event in 2017 with the goal of "upping the game" for senior living cuisine in Colorado.
Sponsored by Shamrock Foods where Chiaro works as a Healthcare Account Executive, the competition is comprised of four teams that have been narrowed from a field of twelve hailing from the state's 570 senior living communities. The preliminary entrants submit recipes, preparation steps and details, and finished product photos to the competition's judges from which the field is reduced to the Chef Challenge finalist teams that square off before a live audience during the CHCA conference. This year's competitors represented Village at Belmar in Lakewood, Carillon at Bellevue Station in Denver, Liberty Heights in Colorado Springs, and Keystone Place Legacy Ridge in Westminster.
The contest taps the sensory scrutiny of four esteemed judges from the Colorado foodservice scene: Chef Sasha Greenwald of CORE Foodservice, Chefs Tim Maness and Greg Matchett of Shamrock Foods, and Chad Fear from the Colorado Department of Public Health and Environment.
Much like the popular Food Network series "Chopped," contestants used ingredients from a stocked pantry and, at the starting bell, were provided a box of three "mystery ingredients" they were required to feature in their dishes, jalapeno bacon, fire roasted poblano base, and jackfruit. All four teams used identical equipment, including induction burners for sautéing (no flame) and a griddle.
Reflecting on the competition's history and the ever-changing senior living landscape, Chiaro comments that she has observed "a lot of chefs coming from restaurants," helping dispel the perception that "institutional food" lacks creativity or flare. "They appreciate the artistic freedom they enjoy in an environment where they're not constrained by other people's ideas or national chain menus."
The 2023 competition was fierce, with the four teams of three working feverishly to prepare attractive and delicious "senior friendly" meals in forty-five minutes. The winning Keystone Place team courageously manufactured fresh fettucine from scratch (a process commonly spanning hours) and plated a tantalizing pasta besciamella with jalapeno bacon, spinach, and roasted tomatoes, a roasted poblano butter infused jackfruit vegetable medley, and a triple-berry sabayon with clover honey.
While the judges examined, tasted, and scored the presentations, emcee Chiaro excitedly shared that the Arizona Health Care Association, impressed by the CHCA's success, plans to stage its own "Chef Challenge" in 2024. After all, imitation is the highest form of flattery.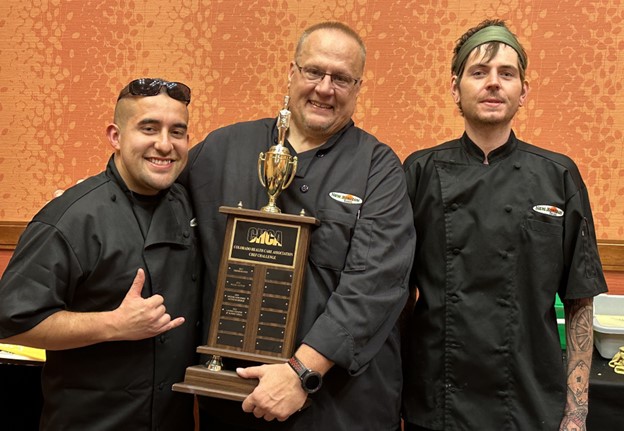 CHCA 2023 Chef Challenge winners Nick Provencio, Jeff Gilchrist, and Kevin Crooks savoring
their victory.The three are employed by New Horizon Foods, foodservice management providers
at Keystone Place Legacy Ridge and many other senior communities from Colorado to Connecticut.